Traditions shape December into a sparkling snow globe that decorates the rest of the year. We can't help but adore the special times; luminous lights; gift exchanges; shimmering, peaceful ambiance of falling snow; gingerbread cookies with the kids; and, of course, sensational holiday smells!
Let Cinnamon Bark and Madagascar Vanilla take your senses for a holiday sleigh ride as you imagine Santa's workshop. Take a deep breath and enjoy the allure of a pine forest from home with the warm, woody aromas of Frankincense, Balsam Fir, and Douglas Fir. Whatever your season looks like, read on for wonderful ways to make the most of your favorite holiday essential oils.
---
Cinnamon Bark
The warm, spicy scent of cinnamon has brightened holidays for centuries. Cinnamon Bark also has frequently been used in the kitchen, adding spice to desserts, entrées, and hot drinks. Here are a few ideas for your bottle of Cinnamon Bark this December: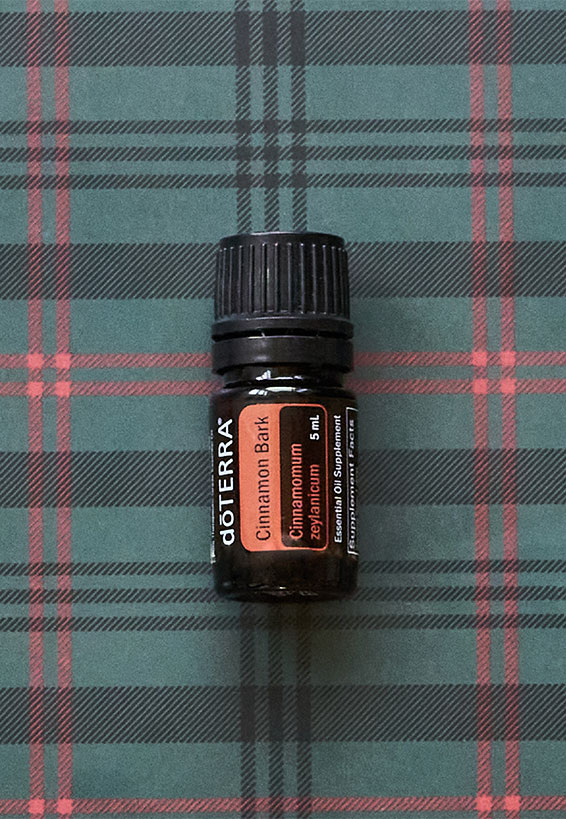 Diffuse this blend and imagine hosting your family holiday party by a fire in the snowy woods—but without the cold:

2 drops Cinnamon Bark
3 drops Wild Orange
1 drop Clove

Start your day by diffusing Cinnamon Bark with Citrus Bliss® and Cypress to inspire holiday cheer.
Try this Cinnamon Bark diffuser blend while you trim the tree:Christmas Tree

2 drops Cinnamon Bark
2 drops Siberian Fir
2 drops Wild Orange

Bake some scrumptious pumpkin cookies with the kids for a heartwarming treat.
Diffuse Cinnamon Bark with Madagascar Vanilla and Cedarwood to make your home smell like toasted marshmallows while you work.
Boil wassail and enjoy the mouth-watering scents of Cinnamon Bark, cranberries, and oranges wafting through your kitchen.
Madagascar Vanilla
Madagascar Vanilla balances the cheer and relaxation we all need during the holiday season. Its rich, creamy scent is perfect for snuggling up in front of the fireplace or watching an old movie. Try out these tips with your bottle: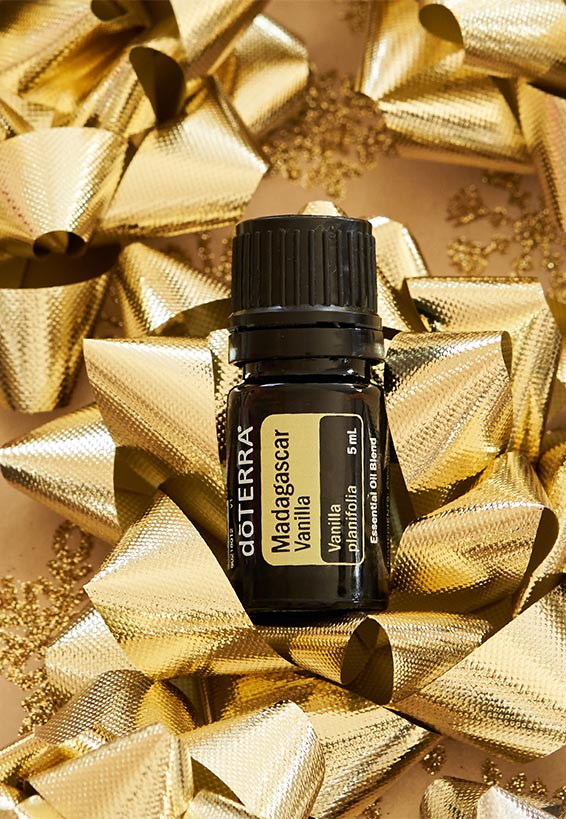 Diffuse Madagascar Vanilla with Holiday Joy® and Balsam Fir to create a romantic, wintry ambiance after dark.
Diffuse a few drops of Wild Orange and Lavender with Madagascar Vanilla while you cuddle up with the kids and sip hot cocoa Hard Candy

3 drops Madagascar Vanilla
2 drops Wintergreen
1 drop Bergamot

Wear this solid DIY perfume for sweet support while shopping for gifts.
Add a couple drops of Madagascar Vanilla to your favorite eggnog.
Frankincense
Frankincense is the king of essential oils and a product we all want to stock up on. Frankincense has a refreshing, invigorating aroma that can both liven and steady your home.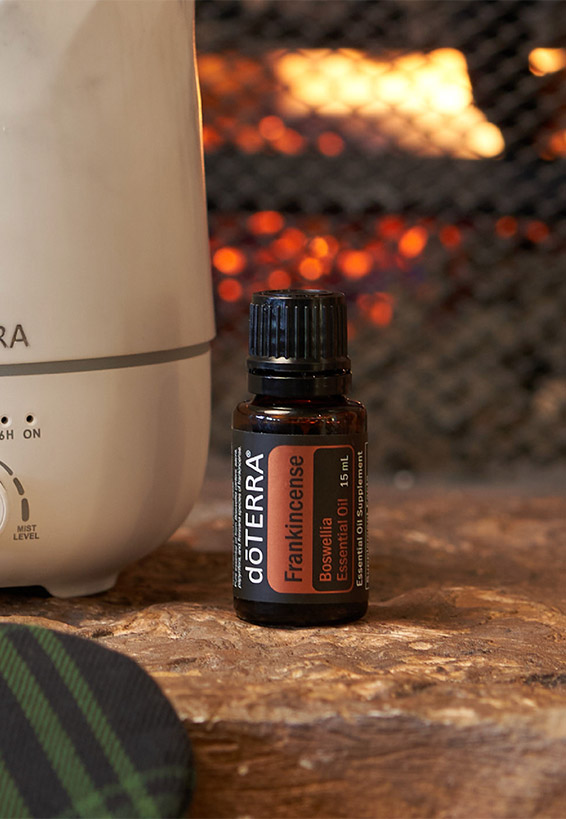 Try this festive diffuser blend while you deck your home in lights and boughs of holly:

2 drops Frankincense
2 drops Myrrh
3 drops Wild Orange
2 drops Cedarwood

Diffuse this merry blend to keep your spirits bright while wrapping holiday gifts:

2 drops Frankincense
2 drops Grapefruit
3 drops Siberian Fir

Rub Frankincense into the palms of your hands and inhale for a warming aroma.
Add Frankincense to doTERRA spa Hand and Body Lotion to help refresh the skin in cold weather.
Mix a few drops of Frankincense into your bath as you relax your holiday stress away.
Fill your heart with hope by diffusing this blend:

4 drops Frankincense
3 drops Bergamot
3 drops Ylang Ylang
Balsam Fir
Balsam Fir is an exclusive limited-time product this December. You'll love diffusing its breathtaking pine scent all month.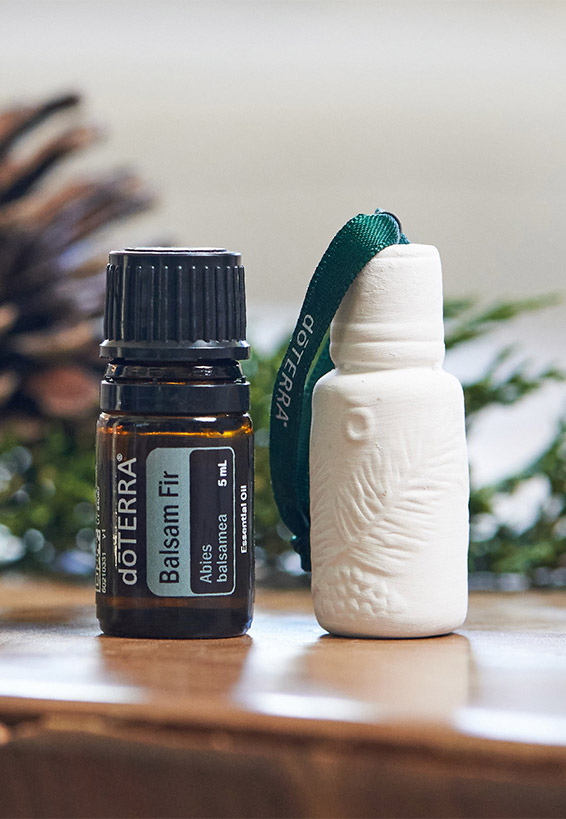 Diffuse Balsam Fir with Wild Orange and Cinnamon Bark beside the Christmas tree to create a fantastical, sparkling yuletide ambiance.
Diffuse Balsam Fir with Cedarwood and Eucalyptus while you sleep during cold December nights.
Add a few drops of Balsam Fir to this Rosemary Spearmint soap DIY, incorporating a little holiday peace into your daily routine.
Create a pine forest room spray by adding several drops of Balsam Fir to a small spray bottle with water.
Make your holidays evergreen with this Balsam Fir diffuser blend:

2 drops Balsam Fir
2 drops Spearmint
1 drop Wild Orange
Douglas Fir
Douglas Fir, like Balsam Fir, smells just like a fresh fir tree farm. Unscrew the bottlecap and inhale the revitalizing scent, letting it send you straight to a land of nostalgia.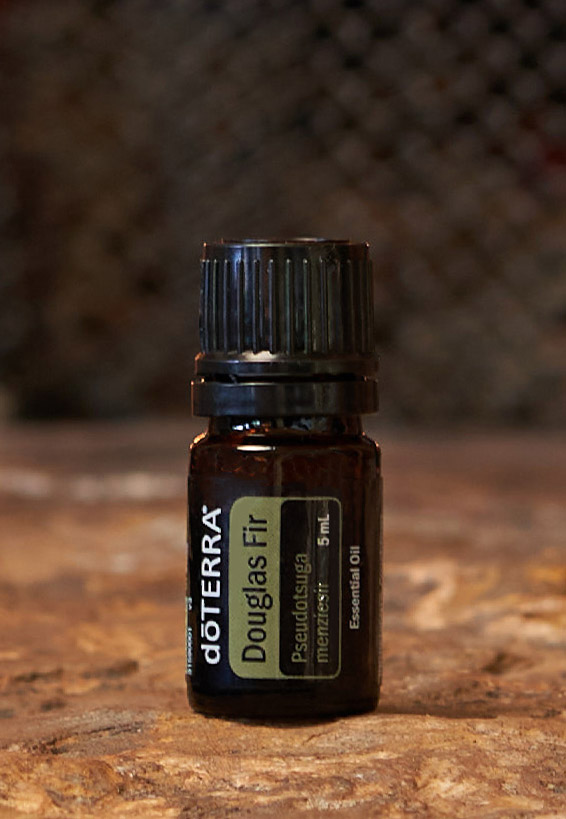 Diffuse Douglas Fir with Grapefruit or Holiday Joy to create a warm, inviting atmosphere while you exchange gifts with loved ones.
Give your almond orange scrub a seasonal boost with a few drops of Balsam Fir at your next holiday craft night.
Mix Douglas Fir with Epsom bath salts for a peaceful, relaxing bath at the end of a busy day.
Add one drop of Douglas Fir to your facial cleanser, bar soap, or body wash for added cleansing benefits.
Enjoy this diffuser blend, matching the silvery mood of a winter wonderland: Fir Tree Farm

3 drops Douglas Fir
2 drops Cedarwood
1 drop Juniper Berry

Diffuse this cheerful diffuser blend while wrapping presents: Santa's Workshop

2 drops Douglas Fir
2 drops Peppermint
2 drops Holiday Joy
3 drops Wild Orange

Combine Douglas Fir with a carrier oil and stave off the winter cold with a relaxing massage.
---
Have a blessed Christmas,
Ruth 💚